E! Online: Caught! Jonas Brothers Hit the Bahamas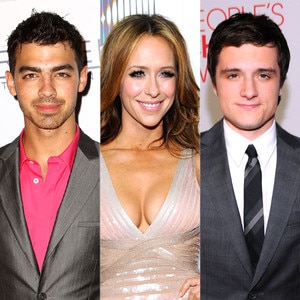 Oh sweet summertime in Hollywood…you never know when (or where) Tinseltown's hottest will catch you by surprise!

We're used to seeing the oh-so-sexy Joe Jonas hanging at H'wood hot spots with bromance buddy Wilmer Valderrama, but this time the eldest JoBro hit the Bahamas with his brother Nick Jonas for a little R&R.

So, just how many chickies were by their side as the JoBros flashed their steamy Bahama bods?

Around 11:30 p.m. on Wednesday night, Nick and Joe Jonas hit up the casino at the Atlantis in Nassau and stayed very under the radar.

According to our savvy Bahamas source, Joe was dressed in a pink polo, while Nick was in a brown sports coat and white shirt and rocking a buzz cut. They were flying solo at the casino with three large security guards and went straight to the ATM upon arrival.

And turns out, the JoBros don't have quite the following in the Bahamas (or maybe they are all just fans of Kevin?!), because no one seemed to notice these famous siblings even with their protective security guards in tow!

But as much as the bros tried to lie low, one lucky gal spotted the sexy singers and approached them: "A pretty fangirl walked up to Joe and asked if he really was who he was," our insider witnessed. "He confirmed his identity, but when the fan asked Joe for a hug he just said, 'I'll shake your hand.'"

Hmm…wonder what's up with that? Aren't you supposed to have that relaxed Bahama vibe on vacay, Mr. Jonas?

Anyway…the dudes then disappeared for a while before posting up in the Dragon's Lounge club in the casino, where they flaunted their celebrity status (so much for staying incognito!):

"It's pretty ritzy," our source said of the club. "They were dancing in a roped-off VIP section and around 1 a.m. they left with a huge entourage of all guys, including Ugly Betty alumni and future Partner's star Michael Urie—who was rocking a highlighter-yellow polo."

And before long, the giddy fangals discovered where the dudes were hanging: "While they were leaving, fans started to notice it was them and started chasing after them," witnessed our Bahama insider. "It was mostly teen girls with some guys mixed in, but they [chased] them…and the guys happily posed for pictures in the lobby of the hotel."

Well that all sounds pretty innocent and friendly, right?
Leave a Comment so far
Leave a comment